Retail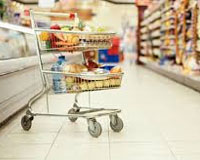 India is the fifth largest retail destination globally. The Indian retail industry has experienced tremendous growth over the last decade with a significant shift towards organised retailing format and development taking place not just in major cities and metros, but also in Tier II and Tier III cities. The overall retail market in India is likely to reach Rs 47 trillion (US$ 792.84 billion) by FY 17.
The Indian retail market, currently estimated at around US$ 490 billion, is project to grow at a compound annual growth rate (CAGR) of 6 per cent to reach US$ 865 billion by 2023. Food and grocery is the largest category within the retail sector with 60 per cent share followed by the apparel and mobile segment.
The foreign direct investment (FDI) inflows in single-brand retail trading during the period April 2000 – March 2014 stood at US$ 106.66 million, as per data released by Department of Industrial Policy and Promotion (DIPP).